2020 Graduate Information
Main Content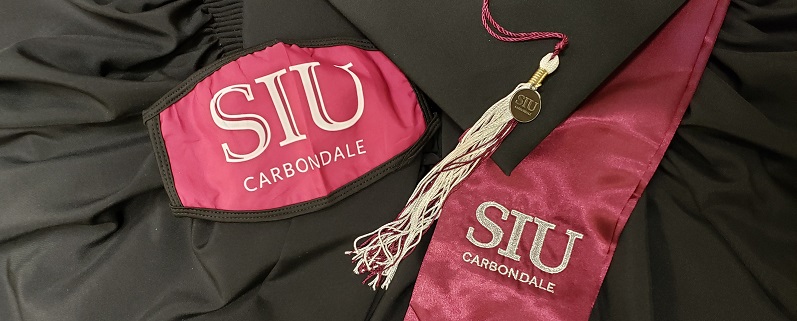 SIU 2020 Graduates
We are delighted to provide 2020 graduates with an opportunity to celebrate Commencement in-person!
There is no formal registration or RSVP for 2020 graduates to participate in Commencement.
There are 3 steps we recommend you complete to prepare for Commencement.
Take a brief survey to help us plan.
Rent regalia online. The deadline has been extended to April 24 for Home Ship only.

If you rented regalia last year and you still have it, you can wear it. There's no difference from year to year, so no need to reorder.
If you rented regalia online last year, but did not receive it or get a refund, you may be able to transfer the rental fee to this year. Please contact mkrevin@herffjones.com for online orders. If you ordered through the University Bookstore, you'll need to contact them directly.
If you rented regalia last year, and you returned the rental items, you may qualify for a reduced rate to rent the gown again. Contact mkrevin@herffjones.com for details.

Claim your guest tickets (up to 4 per graduate). Details about how to claim your guest tickets are available at Guest Tickets.
MFA and doctoral graduates only - please email events@siu.edu to confirm your participation. We will put you in touch with the Graduate School for further information about hooding. Please include name, Dawg Tag, and ceremony you plan to attend in your email.
If you already applied for graduation (through SalukiNet) and received your diploma by mail, you do not need to re-apply for graduation.
If you applied for graduation in 2020 but did not receive your diploma, please check SalukiNet or reach out using the contact information below:
---
Friday, May 7, 2021
2 p.m.
School of Law: All 2020 and May 2021 Graduates
Sunday, May 9, 2021
12 p.m.
Colleges of Agricultural Sciences, Applied Sciences and Arts, Engineering, Science, and School of Medicine: All 2020 Graduates
3 p.m.
Colleges of Business, Education and Human Services, Liberal Arts, and Mass Communication and Media Arts: All 2020 Graduates
---
To ensure the health and safety of all attendees, all ceremonies will be compliant with the Restore Illinois Plan. Social distancing and masks will be required for all participants, guests, and staff. Students are allowed four tickets for guests; information about how to claim guest tickets (free of charge) will be posted here when it is available.
Plans could change if restrictions are increased, or in case of inclement weather. Significant updates will be emailed to students, as well as posted on the Commencement website and on social media. Information about our plans for weather is included below.
Weather: If it's cloudy or rainy, we will proceed with Commencement. Graduates will be provided clear ponchos to wear over their regalia. Guests should dress appropriately for the weather - warm layers, rain jackets, boots - as necessary. Small umbrellas are permitted in the stands, provided they do not obstruct the view of other guests.

Severe weather: We have several alternate plans in case of severe weather, including possible delay or rescheduling of ceremony or move to a virtual ceremony (2021 graduates). Since 2020 graduates have already had the virtual experience, we plan to provide an in-person opportunity, even is it has to be modified from a typical ceremony to move indoors.

Hope for sunny skies, but know we have plans in place for any scenario.