Main Content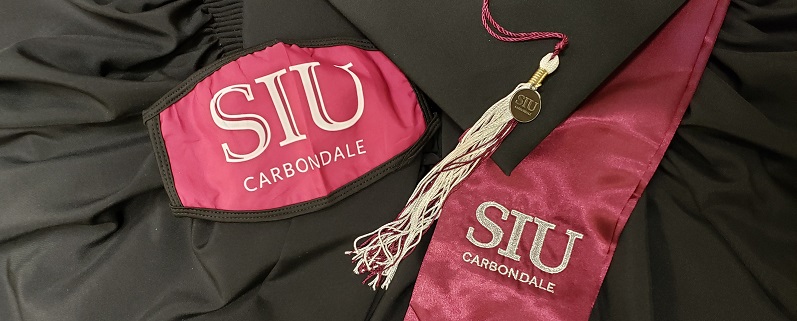 Southern Illinois University Carbondale will host in-person commencement ceremonies May 7-9, 2021 for our Spring 2021 graduates and all 2020 graduates.
Health & Safety: All ceremonies will be conducted according to the protocols required by the Restore Illinois Plan. Social distancing and masks will be required for all participants, guests, and staff. Students or guests should not attend Commencement if they have any symptoms of COVID-19 (including but not limited to fever, cough, shortness of breath), have tested positive for COVID-19 in the last 14 days, or have been exposed to someone who tested positive for COVID-19 in the last 14 days. Graduates who are unable to participate due to illness, exposure, or safety concerns may participate in a future Commencement ceremony. All ceremonies will be broadcast live online for those who are unable to attend.
Guests: Up to four guest tickets will be available for each graduate, free of charge. Additional tickets may be available via a wait list, if extra seats are available. The Banterra Center ticketing office will handle all guest tickets, and more information about how to claim your guest tickets will be available soon. Graduates are not required to have tickets. All ceremonies will be broadcast live online for those who are unable to attend.
Ceremonies will begin Friday, May 7 and conclude on Sunday, May 9.
Visit commencement.siu.edu/ceremonies for details on each commencement ceremony. 
Commencement at Southern Illinois University Carbondale is a time of celebration for our students, their families and friends, and our faculty and staff. All of our graduates reflect that our University truly is one destination for every journey, and we appreciate being part of their journeys. We are proud of our graduates and thank them for their many contributions to our University and our communities.
Our history of excellence dates to our humble beginnings in 1874 as a small teachers college.  Today, SIU Carbondale is a thriving world-class research university attracting students from all 50 states and more than 100 countries.  In fact, SIU Carbondale is one of only 199 institutions nationwide classified as a research university – and there are 4,400 higher education institutions in this country!
Our students have the benefit of learning from leaders in their field, faculty who focus on teaching and mentorship as they pursue essential research.  They are passionate advocates for all who want to learn.
We have every confidence that with their talent, energy and creative spirit, our graduates will make meaningful contributions to the global society.  Congratulations to our graduates and their families.