Ceremonies
Main Content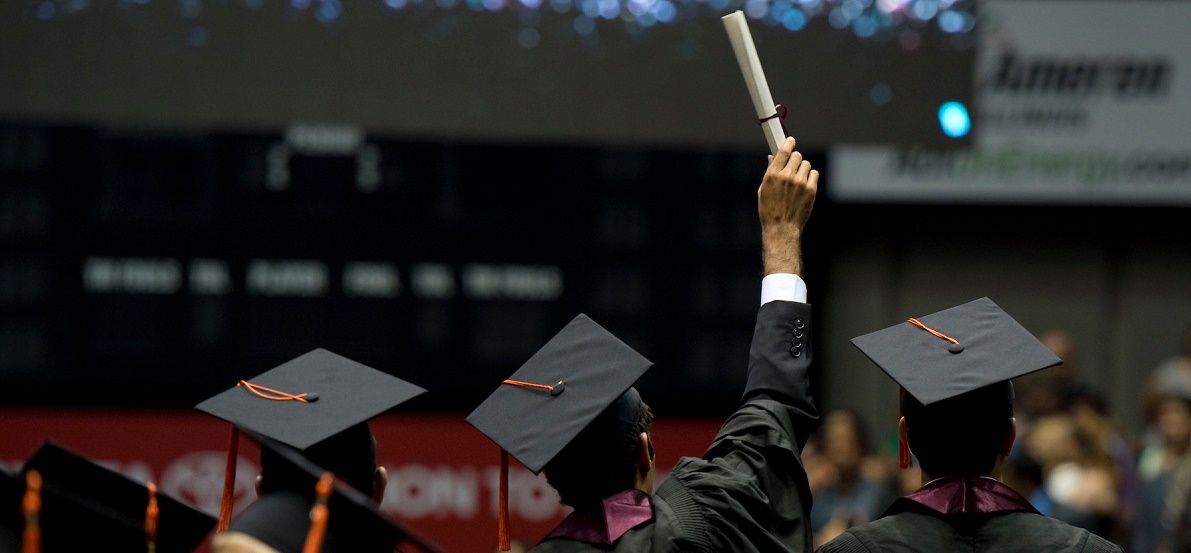 December 2023 Commencement
10AM - Saturday, December 16, 2023
The December commencement will be held at 10 a.m. on Saturday, December 16, 2023 at the Banterra Center, 1400 Arena Drive, Carbondale, IL.
College of Agricultural, Life, and Physical Sciences
College of Arts and Media
College of Business and Analytics
College of Engineering, Computing, Technology, and Mathematics
College of Health and Human Sciences
College of Liberal Arts
School of Education
School of Law
School of Medicine 
More information about schools included in each college is available here.
Live stream of all ceremonies will be available on SIU's YouTube channel.
What to Expect
Typical Commencement ceremonies last between 2-2.5 hours.
Seating for all graduates, as well as hooding faculty, is on folding chairs on the Banterra Center floor. If you need accommodations, such as a larger chair, an extra chair for a personal assistant, or space for a wheelchair; please let a marshal or Commencement staff member know. We want the day to be the best possible for all of our graduates. You may also email events@siu.edu if you would like to discuss arrangements in advance.
Graduates are not required to sit in a particular order, but there are designated sections based on degree (doctorate, Masters, and Bachelors) and college/school. Undergraduates go directly to the floor for seating, so if you would like to sit with friends or classmates, plan to arrive together. Graduate students who wish to be seated together should line up together. Doctoral and MFA students will be seated next to their hooding faculty.
During the ceremony, graduate students, faculty, and members of the platform party will process in. Undergraduates will be seated on the Banterra Center floor at the beginning.
After the processional, there will be remarks from the President, Chancellor, and possibly others.
Following the remarks, degrees will be conferred. During the degree conferral, candidates are asked to rise or wave (as they are able) to be recognized. After degrees are conferred, candidates are invited to cross the stage, where their names are read and they are handed a scroll or diploma cover.
Candidates enter the stage via ramps on either side. Those who are able exit the stage down the center stairs, but candidates who cannot navigate the stairs may cross to the opposite side and exit down the ramp.
Names are read from a reader card. Reader cards have space for graduates to write out a phonetic spelling of their name to assist the reader. This space can also be used for adjustments such as a preferred name or inclusion/exclusion of a middle name.
Photos are taken by a professional company (Grad Images) at multiple points on stage. Proofs will be sent to the graduate within a few weeks of Commencement, and you may order print and/or digital copies if you choose.
After all graduates cross the stage, the Chancellor will give brief remarks and lead the graduates in turning their tassels. We will play a brief welcome video from the SIU Alumni Association, and sing the Southern Alma Mater. At the conclusion of the ceremony, the platform party and faculty will recess out, followed by all graduates. Families and guests will meet their graduates outside or in the concourse or lobby areas.
The ceremony includes music and video components. A streamer cannon will go off at the end, which makes a loud noise. There may be loud noises at other times during the ceremony when guests celebrate their graduates (although air horns and other noise makers are strongly discouraged).
All ceremonies will have an American Sign Language interpreter. The ASL interpreter is on the left/west side of the stage. Seating in sections 109-110 and 209-210 provides the best view of the interpreter. Captioning is provided on the video boards. Additional questions or requests for accommodations may be directed to 618-453-5738.
Future Commencement Dates
Saturday, Dec. 16, 2023
Saturday, May 11, 2024
Saturday, Dec. 14, 2024
Saturday, May 10, 2025