Ceremonies & Programs
Main Content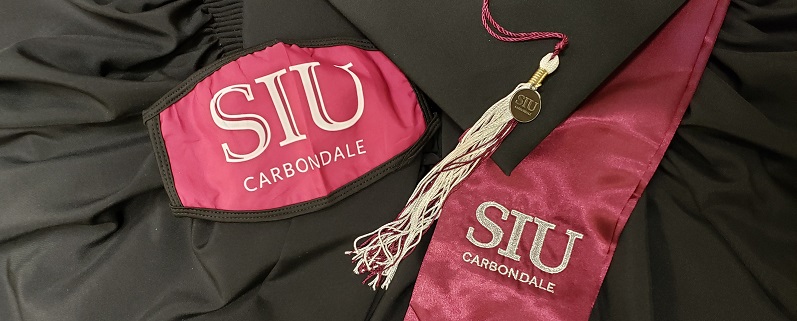 May 2021 Ceremonies at Saluki Stadium
The May Commencement ceremonies will take place May 7-9, 2021 in Saluki Stadium, 1415 Arena Drive, Carbondale, IL.
To ensure the health and safety of all attendees, all ceremonies will be compliant with the Restore Illinois Plan. Social distancing and masks will be required for all participants, guests, and staff. Students are allowed four tickets for guests; information about how to claim guest tickets (free of charge) will be posted here when it is available. All ceremonies will be live-streamed on SIU's YouTube channel for guests unable to attend
Plans could change if restrictions are increased, or in case of inclement weather. Significant updates will be emailed to students, as well as posted on the Commencement website and on social media. Information about our plans for weather is included below.
---
Weather: If it's cloudy or rainy, we will proceed with Commencement.  Graduates will be provided clear ponchos to wear over their regalia. Guests should dress appropriately for the weather - warm layers, rain jackets, boots - as necessary. Small umbrellas are permitted in the stands, provided they do not obstruct the view of other guests.
Severe weather: We have several alternate plans in case of severe weather, including possible delay or rescheduling of ceremony or move to a virtual ceremony (2021 graduates). Since 2020 graduates have already had the virtual experience, we plan to provide an in-person opportunity, even is it has to be modified from a typical ceremony to move indoors.
Hope for sunny skies, but know we have plans in place for any scenario.
---
ADA Seating
Saluki Stadium is compliant with the Americans with Disabilities Act (ADA). Seating for wheelchairs and people with limited mobility is located on the lower levels of all sections in the seating bowl. To reserve wheelchair accessible guest tickets, please call the Ticketing office at 877-SALUKIS.
Drop off for guests with limited mobility is available at the north end of Lot 18 (near the south entrance to Saluki Stadium), and designated parking for vehicles with disability plates or placards is located in Lot 18 (south of Saluki Stadium). For more information regarding guests' special-needs accommodations, contact University Events at 618/453-7424 or email events@siu.edu.
Students with disabilities should contact Disability Support Services at 618/453-5738 to discuss specific accommodations that can be made.
There will be an American Sign Language interpreter at all commencement ceremonies.
---
Ceremony Dates and Times
Which ceremony should I attend? Find your major.
Each commencement ceremony is expected to be 1.5 to 2 hours in length.
Commencement Ceremony Schedule
Friday, May 7, 2021
2 p.m.
School of Law: May 2021 and All 2020 Graduates
6 p.m.
College of Agricultural Sciences and College of Science: May 2021 Graduates
Saturday, May 8, 2021
9 a.m.
College of Liberal Arts and College of Mass Communication and Media Arts: May 2021 Graduates
12 p.m. 
College of Applied Sciences and Arts: May 2021 Graduates
3 p.m. 
College of Business, College of Engineering, and School of Medicine: May 2021 Graduates
6 p.m. 
College of Education and Human Services: May 2021 Graduates
Sunday, May 9, 2021
12 p.m.
Colleges of Agricultural Sciences, Applied Sciences and Arts, Engineering, Science, and School of Medicine: All 2020 Graduates
3 p.m.
Colleges of Business, Education and Human Services, Liberal Arts, and Mass Communication and Media Arts: All 2020 Graduates
Future Commencement Dates
Saturday, May 8, 2021
Saturday, December 11, 2021
Saturday, May 7, 2022
Saturday, December 17, 2022
Saturday, May 13, 2023